Winter Blues:
Seasonal Affective Disorder - What It Is and How To Overcome It

Norman E. Rosenthal, M.D., ©1998, 325 pp., paperback.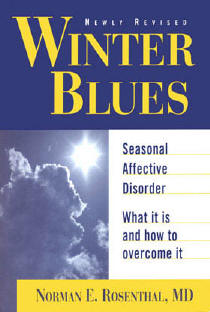 When the seasons change, do you…
Have less energy than usual?
Feel less productive or creative?
Need more sleep?
Feel down or depressed?
Have less control over your appetite?
If you answered yes to any of the above, you may be one of the millions of people who suffer from seasonal affective disorder (SAD). Updated and expanded with the very latest information, this guide is a veritable survival kit for anyone who suffers from the winter blues. The book includes a self-test to help you evaluate your own level of SAD; revised chapters on antidepressant medications, light therapy, St. John's Wort, and a helpful nutritional regimen; step-by-step guidance on coping with SAD all year round; resources for SAD sufferers; and much more. $15.95